Montag morgen. Es ist wieder Zeit für ein wenig Inspiration, um gut durch die Woche zu kommen. Heute mit einen Blick in die englischsprachige Bloggerszene.
Dieses Mal habe ich mit Mish und Rob gesprochen. Mish und Rob sind ein verheiratetes Paar. Sie leben ortsunabhängig und reisen als digitale Nomaden durch die Welt. Sie haben einen Blog, in welchem sie von ihren Erlebnissen und Erfahrungen berichten und verdienen ansonsten ihren Lebensunterhalt mit ihrem eigenen kleinen Business. Aber lest selbst:
Hi Mish, Hi Rob! Thanks for taking the time to answer my questions. Please tell my readers a bit about yourself. Where are you from? What do you do for a living? 
Hi! We're Mish & Rob, and we're originally from London, UK.
In March 2012, after getting married, we moved to New York City for six months, just as a "career break" – we had enough savings to support us, and the plan was to use our time there to figure out what to do with our lives before returning to London and either freelancing or getting new jobs.
As it happened, we never went back. We discovered blogs and podcasts about "digital nomads" – people who work from their laptops while travelling the world. And weirdly, we both simultaneously decided that we really wanted that kind of life too – even though neither of us had really been interested in travel before.
We're still experimenting with finding a travel pattern that works for us. We've spent as long as six months in New York City and two months in Thailand, to as little as a week in Madrid and a few days in Paris. In total, we've stayed in 29 different apartments in the last year.
We run our business, Mortified Cow, from wherever we are in the world. We work with small businesses who might be considered "boring" (like accountants and estate agents), and help them make more money and have more fun through awesome branding, compelling copywriting and a strong online presence.
So you started a blog. A good point to start from if you want to become location independent. What is your blog "Making it anywhere" all about?
It's about how to travel the world while building a business you're proud of – sometimes by sharing what works for us, and often by showing our mistakes so you can avoid them!
Our mission was to create a business that we love – where we're providing real value and doing outstanding work – which earns us enough money to support a "normal" lifestyle in a European city. A lot of people are focused on making just enough money to survive in Asia, working as little as possible and having fun the rest of the time – but that doesn't suit us.
That all sounds very serious, but we have plenty of jokes and photos of us pulling stupid faces to make it feel like you're not being lectured!
Did the blog help you to build a career or business or was it always more like a side-project?
We only ever meant the blog to be a side-project, but it has actually helped our business. Because it showcases our writing, sometimes people find us and want us to write for them – so it gets us new clients.
Also, exploring ideas and challenges on the blog helps us to clarify them in our own heads – and we get great opinions and extra viewpoints from the incredibly smart people who read the blog and interact with us.
So you travel permanently? Do you have something like a homebase? What are your 3 favorite spots to hang out?
We do travel permanently, but we need to go back to the UK fairly regularly because our families are there, and we have property investments too. We don't have a "home" there, but we tend to visit London between every trip rather than just go continually around the world.
Our favourite places in the world for living and working are Chiang Mai, New York City and Berlin. But there's a lot more of the world still to see!
Glad to hear that Chiang Mai is one of your favorite spots since I will also be spending some time there soon. So tell me, how did you first get in contact with the idea of location independence? Which was the first blog you ever followed and how did it all start?
Somehow we discovered the term "digital nomad" while we were in NYC, which led us to a few different blogs. Even though it's kind of obvious that technology allows you to work from anywhere, reading about people who are permanently doing it made it much more "real".
The Lifestyle Business Podcast was the first thing we remember really clearly discovering and being inspired by, and that led to reading and listening to a lot more blogs and podcasts. We maintain a big list of our favourite reading, listening and watching material on our "Resources" page.
We started our own blog just as a way of connecting with other people in that world and learning more about it. The more we discovered, the more we realised the digital nomad lifestyle was perfect for us.
How do you make a living at the moment? Mainly your freelance work? Is your blog a big part of your income? Any big projects that you are working on?
Our main income comes from Mortified Cow, our client-facing business. We also have income from our property investments in the UK, and side-projects like books we've written.
We don't make any money from Making It Anywhere. Making any significant money from blogging is a bit of a myth, but it's an amazing way to find out what an audience wants and promote related products to them.
With that in mind, we've very recently started working on products related to Making It Anywhere that will become income streams one day. So we've started offering business coaching, ,we've started a forum, and we're working on a training product that helps people start a location-independent business in the same way we have.
Imagine someone has a profession that can't be transformed to location independence but he really wants to get there. Whats the best way he can start to earn a living?
We've written a step-by-step guide to doing exactly that, so we'll just link to it rather than typing the whole 2,000 word answer again!
Imagine, you would be in my position and would have to figure out a question for Mish and Rob. What would this question be and please also deliver the answer to it.
Great question!
So the question should be, "Can anyone do what you're doing?"
And the answer would be: yes, but you have to really want it. It's hard work. It's scary. You won't make any money for months, and the whole time you won't be sure if you'll ever make any money. Travel is exhausting, and you'll constantly be in confusing new situations. You'll either struggle to be motivated with no one telling you what work you need to do, or you'll be so scared of failing that you'll work 18 hours a day and miss out on seeing all the exciting new places that you're in!
Basically, you're taking building a business (one of the hardest things you can ever do), and combining it with moving house (one of the most stressful life events) constantly!
It's the most rewarding lifestyle we've ever had, and we'd NEVER want to go back to working for someone else. It's hard to imagine even living in the same place for a long period of time. But it's definitely not all sightseeing, surfing, and occasionally using your laptop on the beach.
Thanks, Mish, Thanks, Rob. That was a very interesting and inspiring interview. I hope I'll get the chance to meet you somewhere around the globe for a beer sometimes.
Das war das Interview. Ich hoffe, es hat dich inspiriert. Mish und Rob werden sicher weiterhin ortsunabhängig arbeiten, als digitale Nomaden durch die Welt reisen und auf ihrem Blog davon erzählen. Bleib auf ihrem Blog am Ball!
Hast du Fragen, Anregungen oder ähnliches? Wir freuen uns über Kommentare.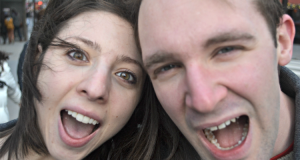 Titelbild: onesevenone / photopin 
Lebe nach deinen eigenen Regeln!