Ich habe hier auf dem Blog immer mal wieder digitale Nomaden interviewt und sie darüber ausgefragt, wie sie ortsunabhängig ihr Geld verdienen und wohin sie am liebsten reisen. Diese Interviewserie wird es nun regelmäßig geben.
Jeden Montag morgen erwartet Euch zukünftig auf Earthcity ein aktuelles Interview mit einem digitalen Nomaden.
Den Anfang macht heute Sean Ogle. Diejenigen unter Euch, die sich in der 'Welt des ortsunabhängigen Arbeitens' schon ein wenig auskennen, werden von Sean sicherlich gehört haben. Sein Blog 'Location180' beschäftigt sich intensiv mit diesem Thema.
Sean ist in der Welt der digitalen Nomaden gut vernetzt, er organisiert jährlich mit Chris Guillebeau den World Domination Summit und betreibt diverse eigene Online-Projekte. Ausserdem ist Sean ein ziemlich lässiger Typ.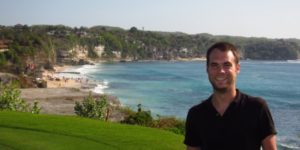 Das Interview war für mich super spannend und interessant. Ich hoffe, Euch geht es genauso. Enter Sean….
Hi Sean, please tell my readers a little bit about yourself. Where are you from? What do you do for a living? Where are you spending most of your time?
My name is Sean Ogle, and I'm the founder of the blog 'Location180' and the entrepreneurship community 'Location Rebel'. To put it simply, I teach people how to build lifestyle businesses – or businesses that allow you to do more of the things you like to do in life.
These days I spend about 8 months out of the year in my home town of Portland, Oregon – and the rest of the time I'm traveling to all sorts of other places.
Your blog is very inspiring to many people. What is your blog "location180" all about?
Location 180 started simply as a way to hold myself accountable for the things I wanted to do in life.  It has chronicled my journey from being unhappy in my job as a financial analyst, to leaving and moving to Thailand to learn how to build a business online.
Now I've built a successful business, so the site is really about helping other people build similar businesses through a process I've developed, as well as continue to try and inspire people through my travel and adventures.
Did the blog help you to build a career or business or was it always more like a side-project?
The blog is the basis for everything I do these days. It's lead generation for the community and course I've built, and was how I made my very first dollar online via affiliate marketing. So while the blog isn't necessary the primary driver of income, it does bring in something and is the gateway to all the other projects and products.
Do you travel permanently? Do you have something like a homebase? What are your 3 favourite spots to hang out?
For someone who writes about working from anywhere, I actually have a relatively stable and normal life when I'm at home. That said, I have a lot of favorite spots to hang out.  Three of my favorites are:
Sunriver, Oregon – I've been going here since I was 7 and I still go back and rent a cabin 2-3 times a year.
Bangkok, Thailand – Spent most of 2010 living here and it quickly became my favorite city in the world.  There's something for everyone.
Seminyak, Bali – I lived here for two months in 2011 and love the island.
How did you first get in contact with the idea of location independence? Which was the first blog you ever followed and How did it all start?
It all started after I returned from a trip to Rio de Janeiero for Carnival in 2009. I used up all of my vacation time to do it and came back and knew I needed to make a change. When I returned I stumbled upon Chris Guillebeau's blog, and from there started my own, and put the wheels in motion to leave my job later that year.
The idea of location independence was more of an accidental experience than anything else. I was in Thailand and became introduced to the idea of that type of business, it fit what I was doing, so I kind of ran with it and established myself as an expert in that field.
How do you make a living at the moment? Is your blog a big part of your income? Any big projects that you are working on?
I make an income from a variety of places.  Here are a few:
Through my course

Location Rebel

Affiliate income through Location 180
Affiliate income through my niche sites

HDR Software

and Breaking Eighty
A couple consulting clients who have me on retainer
There are a few other random ones, but those are the biggest.
Imagine someone has a profession that can't be transformed to location independence but he really wants to get there. Whats the best way he can start to earn a living?
I teach people a three step process through Location Rebel, and I truly think it's the best way to go about it:
Build relevant skills. Things like knowing how to use WordPress, basic copywriting and basic SEO put you in a good position to succeed.
Freelance one of those skills – This builds your base of income and your confidence
Apply to your own projects – Things like ecommerce, info products or niche sites can all be good ways to go from here.
Most people skip to step 3, but if you follow these steps in order, you'll have a much clearer path to success.
One last advice for the readers?
Start something – anything.  Bottom line is there are only seven days in a week, and someday isn't one of them.  So start doing all of those things you said you would do someday.
Vielen Dank, Sean. Das war ein sehr spannendes und inspirierendes Interview. Besucht unbedingt Seans blog www.location180.com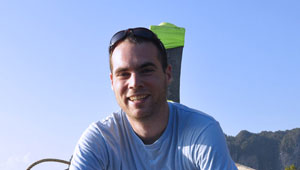 Sean Ogle arbeitet als Autor und Entrepreneur. Er hat sich darauf spezialisiert, Menschen dabei zu helfen, Business-Ideen zu verwirklichen, die ihnen erlauben, ihre Lebensträume umzusetzen. Wenn er nicht gerade unterwegs ist, um Fotos zu knipsen oder Golf zu spielen, dann schleicht er sich vermutlich gerade in irgendein "high class establishment", in das er nicht hinein gehört.
Titelbild: TimOve 
Lebe nach deinen eigenen Regeln!